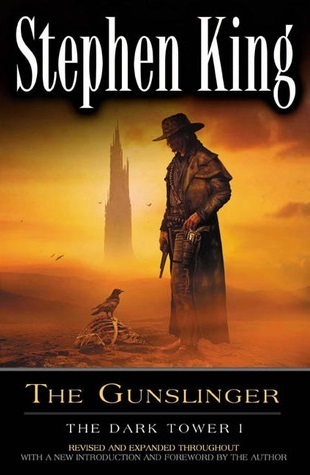 Beginning with a short story appearing in The Magazine of Fantasy and Science Fiction in 1978, the publication of Stephen King's epic work of fantasy -- what he considers to be a single long novel and his magnum opus -- has spanned a quarter of a century.Set in a world of extraordinary circumstances, filled with stunning visual imagery and unforgettable characters, The DarBeginning with a short story appearing in The Magazine of Fantasy and Science Fiction in 1978, the publication of Stephen King's epic work of fantasy -- what he considers to be a single long novel and his magnum opus -- has spanned a quarter of a century.Set in a world of extraordinary circumstances, filled with stunning visual imagery and unforgettable characters, The Dark Tower series is King's most visionary feat of storytelling, a magical mix of science fiction, fantasy, and horror that may well be his crowning achievement.Book IIn The Gunslinger (originally published in 1982), King introduces his most enigmatic hero, Roland Deschain of Gilead, the Last Gunslinger. He is a haunting, solitary figure at first, on a mysterious quest through a desolate world that eerily mirrors our own. Pursuing the man in black, an evil being who can bring the dead back to life, Roland is a good man who seems to leave nothing but death in his wake.This new edition of The Gunslinger has been revised and expanded throughout by King, with new story material, in addition to a new introduction and foreword. It also includes four full-color illustrations in the hardcover and trade paperback formats....
| | | |
| --- | --- | --- |
| Title | : | The Gunslinger |
| Author | : | |
| Rating | : | |
| ISBN | : | 9780452284692 |
| Format Type | : | Paperback |
| Number of Pages | : | 231 Pages |
| Status | : | Available For Download |
| Last checked | : | 21 Minutes ago! |
---
The Gunslinger Reviews
INTRODUCTION: A few things you should know before deciding how helpful this review will be for you.………….………….………….*** I think the Dark Tower series as a whole is a staggering achievement and belongs in any discussion without qualification of the "Greatest Fantasy Series of All Time." *** There are no spoilers in this review but I have read the series twice all the way through and am doing a third reading as part of a group read this month. Therefore, my review is colored by my knowledge of how the rest of the series is. Hence, I only give this book 4 stars because in comparison to the rest of the series, I thought this book was by far the weakest. In a vacuum, I would have probably given this 5 stars due to the "Chilly Palmer/Josey Wales" awesomeness of the character of Roland. *** Roland Deschain is THE MAN and belongs among the truly ICONIC figures in 20th century literature and is certainly among my top ten favorite characters of all time. I think this is even more astounding given the Roland himself was initially patterned on the classic, iconic western gunfighter. Yet, through the series, I thought he grew beyond his original programming and became a truly unique figure. *** I have read a number of Stephen King books beyond the Dark Tower series and have really liked some (The Stand, The Green Mile, The Night Shift) and really disliked some (Dreamcatcher, Cujo and The Dark Half). I just wanted to be clear that I like Stephen King but am not a "everything he writes is gold" fanboy…..beyond the Dark Tower series that is. *** I LOVED, LOVED, LOVED the ending of the series (don't worry, no spoilers). I can not think of a better way to have ended this epic series and believe that it created a much more powerful memory of the journey through all 7 books. I think Stephen King should be applauded for allowing the story to take on such "MYTHIC" importance as I think he achieved with the way he ended this series. I know that MANY (and I mean MANY) disagree with me on this one and I can understand where they are coming from…….(psssst however, just between us….they are all wrong and I'm right…but shhhhhh). *** I have listened to all 7 books are audio (the first 4 read by the late Frank Muller and the last 3 read by George Guidall). I believe that anyone who has read the books and not listened to these stories on audio is REALLY MISSING SOMETHING WONDERFUL. Those who have listened to the "Dune" series on audio can understand the incredible quality and enhancement that a superb reading of a great story can bring. ………….………….………….As mentioned in the above introduction, this book only gets 4 stars from me. In large part this is due to both the quality of the later books and also the fact that it is plagued by some inconsistencies that arose due to changes that King made in the later books. I applaud King for going back and re-writing this story to resolve these conflicts, but I still think this book suffers from the fact that King did not know how LARGE the story would become when he wrote this. That said, this book is an absolute essential read as it introduced the world to Roland Deschain of Gilead, Son of Steven, Gunslinger, Champion of the White, Descendant of the line of Arthur Eld, Bane of the Man in Black and Seeker of the Dark Tower. How best to describe Roland? Physically, he was inspired by Clint Eastwood's "The Man with No Name" and so a younger Clint Eastwood is an excellent way to visualize him. ...From there, you need to mix in a little MYSTICAL TEACHER/WARRIOR/MASTER SLOGAN DISPENSER:....Add a helping of NOBLE KNIGHT LEADER:...And then top it off with a large triple shot of BAD ASS MOFO:...…..with the end result being one of the most intriguing, layered (though it takes some time to peel those layers back) and complex figures in all of literature(in my opinion). In this first installment, which is quite short compared to subsequent volumes we are introduced to Roland and the world he lives in as he is chasing the Man in Black. Roland's world appears like a deranged version of the Old West but with occasional references to an older world that was much more technologically advanced. We are left with the impression of a very ancient world that is fading and running down. As Roland describes it, his world "has moved on."We also come to find that Roland's world is not "our world" but that there are strange similarities between the two (e.g., Arthur Eld the great hero of Roland's world would seem to be their version of King Arthur; both world's have a version of the song "Hey Jude", etc.). In addition, we learn that it is possible (though difficult) to travel between the worlds which is a fundamental aspect of the rest of the series. It is in this story that Roland first meets Jake Chambers who arrives in Roland's world from a version of "our" New York City. I will leave you to learn for yourself the circumstances surrounding Jake's appearance and the results Through a lengthy flashback in the city of JethroTull we learn of both the mad skills of Roland as a Gunslinger and the otherworldly powers of the Man in Black. My takeaway, Roland can shoot the eyes out of hummingbird and 50 paces. From there, the book moves ahead briskly until the inevitable final showdown between Roland and the Man in Black. The details, the interesting nuggets and the time spent with Jake are best experienced fresh so I will avoid spoilers. Overall, a good introduction to Roland and his world but merely an appetizer to the warm buttery goodness that is to follow and the epic tale of the Gunslinger really gets going in the next book. "The man in black fled across the desert, and the gunslinger followed…." And you should follow to, all the way to the end of the story and discover the wonders of this most original journey. HIGHEST POSSIBLE RECOMMENDATION!!!.

Please don't hate me. I know it seems sacrilegious to give a Stephen King anything less than 4 stars, but this one was SLOOOOWWWW for the first 75%. That's not to say I didn't enjoy it, but I did find this was an easy book to put down and not feel an urgency to jump back into for days at a time. I've heard many folks describe this as a nice prologue to the series and that, in a sense, the action and story doesn't become investment worthy until book 2. That, coupled with the fact that I did become very involved in the final 25% or so of this book has me itching to continue on with Roland because DEAR GOD THAT ENDING!!! I was just coasting, coasting, coasting, and then then I had to reread the final couple of pages a few times to make sure I was following along properly. All in all, I got the sense that this is a really special series and worthy of the high praise it has received for decades, and I expect my future reviews will hold more gushing and fangirling than this one did.PS- my prim and proper mother (we lovingly refer to her as Nonni) is the one who initially convinced me to read this series and also invest in The Stand because she read both way back in her day. Who knew Nonni was so cool and hip and in the know?!

The man in black fled across the desert and the Gunslinger followed. Roland Deschain, the last of the Gunslingers, is on a quest for the Dark Tower, a mysterious edifice that is the axle of worlds and holds all existence together. In this, the first volume, Roland pursues his nemesis across the Mohaine Desert. He follows the man in black's trail to a little town called Tull, then through more desert, encountering a boy named Jake from our world, and then into the mountains. Will Roland finally catch his arch-nemesis after years of pursuing him? And what means will he go to to achieve his goal?When I first picked up this book, I had no idea it would shoot to the top of my favorites list. I wolfed down the first four books in three weeks, then entered an agonizing period of waiting for the last three to be published. I think I've read the first four books five or six times each. The whole Dark Tower series, while on the surface a fantasy-western, is really the story of one man's obsession. In this volume, we get a hint of what Roland will do to get to the Dark Tower.The writing is great and it warmed me up to Stephen King. Roland's world is unique. Part fantasy, part western, part post-apocalypse. While it's the first book in a series, it's quite satisfying to read on its own.If your looking with fantasy with a different flavor, look no further.Additional Thoughts from the April 2011 re-read:Some of the additions in the revised edition of this book were much-needed and brought the first book into synch with the later ones. Others seemed a little ham-fisted and took away a bit of Roland's mystique. (view spoiler)[I like the idea a certain curmudgeonly Kansan reviewerproposed that the first edition of The Gunslinger and this one are from different cycles in Roland's quest. I think it's a testament to Stephen King's skill as a writer that even on my sixth or seventh go round, I was still hoping Roland wouldn't let Jake fall. (hide spoiler)]Additional Thoughts from the 2014 reread:In the forward, King mentioned he pushed everything else aside to finish the last three books because he felt like he had a sense of responsibility to his readers. If only George R.R. Martin felt that way...It is mentioned that Roland is the kind of man who straightens pictures in strange hotel rooms. Is this a hint of his obsessiveness?I notice something new every time I read this book. If I had to pick one book that made me want to write, it would be this one.(view spoiler)[The following concerns my speculation regarding the end of the series. BE REALLY FUCKING SURE YOU WANT TO READ IT BEFORE YOU CLICK ON IT.(view spoiler)[The Man in Black tells Roland he must slay the Ageless Stranger in order to reach the top of the Tower. Since Roland learns that HE is the Ageless Stranger in The Dark Tower, I think it means that he's going to have to put his obsession with the Dark Tower to rest if he's ever going to reach the top.Also, I caught myself hoping Jake wouldn't fall AGAIN. (hide spoiler)] (hide spoiler)]

Great world building and atmosphere. Definitely different from anything I've read before. It felt very scattered, like King didn't really have any idea what the next paragraph would hold. I'm sure that probably made it a blast to write, but it could've been better if it wasn't quite so disjointed. The dialogue between characters is Star Wars Episode II level bad, unfortunately. I really enjoyed the world building though, which makes me think that the series may be worth continuing.

صدرت بالعربية اخيرا بعنوان الرجل المسلحBeaware that the movie's following the Ending of the Last Book!!!But in the first book, I suffered the Hard, Dry, Boring read of following a Man in Black you don't know, in a weird hot dry desert in hot August for one reason,To reach a Dark Tower you don't know where..or why..detailed in too much adverbs and ambiguity.That didn't help much to start the following 2 books I already bought...Book one was a true disappointment for me, I never thought it'd be from you, Mr. King..I believe in Old 'Gods' of King "'Salem's Lot" and the new "Under the Dome"..but this really I hated..May be just me...but here's a confession that clear my doubts.."Stephen King, on the foreword;The younger man who dared to write this book had been exposed to far too many writing seminars, and had grown far too used to the ideas those seminars promulgate: that one is writing for other people rather than one's self; that language is more important than story; that ambiguity is to be preferred over clarity and simplicity, which are usually signs of a thick and literal mind. As a result, I was not surprised to find a high degree of pretension in Roland's debut appearance (not to mention what seemed like thousands of unnecessary adverbs). I removed as much of this hollow blather as I could,..."Yes, that's why I hate most new authors work, but really young King here followed the rules very hard..And it doesn't seem as if he really removed much.The ambiguity here was in the character of the Gunslinger, who by half of the book you'd get to know some glimpse of his childhood past and coming of age.He kills, he travel for totally unknown reason till the end of this volume…Following another ambiguous Man in Black who's ambiguity evil and the reason he killed a whole small town.Meeting ambiguity Boy killed in our real world and somehow he's alive in this ambitious world...which is even not the Gunslinger's original world.A world with wired Mutants, men with birds heads, while the Gunslinger world is even weirder.Do you have an even small explanation on anything?No."Stephen King, on the foreword;Although I've spent an inordinate amount of time writing these books in the thirty-three years between 1970 and 2003, comparatively few people have read them." No wonder, simply because this book defy the rules of First Book of a Series..Too ambiguous...dry dry lines for a supposed epic fantasy..I don't believe anyone felt liking "Ronald, The Gunslinger" nor being okay with travelling with a dead boy "Jack", or would get tense that something bad may befall him...he's already dead for God's sakes..brutal death as it is.It's hard to love the characters if you don't understand them well enough…-----------I'm not a fan of extreme fantasy, I love ASOIAF and Harry Pottet cause both more real than extreme fantasy, But till now I can't force myself reading Lord of the Rings..I loved the movies, And I loved the short "Hobbit" novel, it's short and the writing style is amazing but that's all.Here's extreme strange ambiguous world and characters...in dry 19 years old writing by the rules of "how to be Shakespeare", with all the strange old and weird language. and the 238 pages felt like 832 pages.I find myself fast reading many lines, still I got it all..it's not too much stuff happening anyway. When now I have read the Wikipedia to write the review I find out the Summary ia totally enough, read it instead of this book and you're done with it."Stephen King, on the foreword;The Gunslinger did not even sound like the later books—it was, frankly, rather difficult to read. All too often I heard myself apologizing for it, and telling people that if they persevered, they would find the story really found its voice in The Drawing of the Three." Well, Only 4 pages by the last chapter can gives u a glimpse of this tower request… it evolves God, religion, technology, creation, since...etc.That's what I most cared for...that's the best scene of all the book..Alas, The Man in Black doesn't know much anyway, so is The Gunslinger..So do I, so do you if you only get yourself finishing this book.I believe this book could have been way better if was just half the pages, and included in book two as 2 parts in one book.It was 5 short stories once published separated. .God that'd have been awful.. Only the last one though making a bit good promise to an interesting adventure to come. If this last one "The Gunslinger and the Dark Man" came second in order of chapters that may have been at least better improvement.I've read the preview of Book Two that included here..it was 12 pages of same prolonged one man tedious walk..till the mysterious door appears and that's when everything may change for way better adventure set in our real world..I may love it I guess., may be when I read the next 2 books -but they're in detention till next February, the Movie release- may be then I'd appreciate this first book more.So, till next February then.Mohammed ArabeyFrom 5 Aug. 2016To 8 Aug. 2016Next King Stop, The Stand

An intriguing book, it draws the reader in little by little. It is fantastic, imaginative ... but inconsistent. Amid moments of brilliance there are also islands of abstraction so murky, almost Kafkaesque in absurdity, that I could not follow. But it is interesting enough that I will probably read the sequels. Of course that is another detraction, this book does not stand alone but leaves the reader with many questions unanswered. Fun questions that lead the reader to seek further, but a work of literature should be able to be read alone (with obvious, but genius exceptions!). The ideas of alternate realities and worlds within worlds are very interesting and King may be uniquely qualified, as a literary descendant of Lovecraft, Matheson and Blackwood to pull it off.****2015 amendment******"The man in black fled across the desert and the Gunslinger followed." The iconic opening lines have stayed with me for a couple of years and I find myself thinking about this series, and more specifically, what have I missed? Hundreds of thousands of people love this series and I am left on the outside looking in. I think when I first read this I was put off by the purely fantastic setting, but now, maybe three years after I read the first, I am ready to return and give this another try.

The man in black fled across the desert and the Gunslinger followed. That is the line I remembered for years and years that made me think that someday I would revisit THE GUNSLINGER...As a young teenage girl I read THE GUNSLINGER and really didn't like it that much. I didn't hate it- it just confuuuuuused me. And to review this I will have to take you back to when I first read it as a teen...Stephen King is special to me. Special because when I first discovered him- it was the first time I went out on my own and read something that wasn't influenced by anyone but me. Before then my books were all hand me downs. Books I borrowed from my brother- like John D MacDonald's Travis McGee series, or Nancy Drew from my sister, Agatha Christie from my mother- My dad loved the classics, my friends VC Andrews. I enjoyed them all, but something told me- there was going to be an author that set me apart from the rest of my friends and family- books that were going to be alllllllllll mine.One night I watched the movie Dead Zone. In the credits it said written by Stephen King- and a whole new world opened up to me. I read Dead Zone, I read Salem's Lot. I read The Shining, The Stand...Firestarter...Carrie. I got used to his writing, and I was thrilled with it!!! Then I picked up THE GUNSLINGER and all hell broke loose. What the hell was this? It didn't fit. I didn't get it. It scared me that this was going to be what the rest of his books were going to be like. As a young girly girl I wanted nothing to do with westerns... I wanted nothing to do with Roland Deschain.Thankfully more Stephen King came out that made me happy...Christine, Pet Sematary. The Talisman, Thinner, It...and so many others. I forgot about The Dark Tower and THE GUNSLINGER and went about my merry way. But that line always stayed with me... The man in black fled across the desert and the Gunslinger followed. ...Fast forward September 2014... two of my favorite Goodreads friends Stepheny and Jeff were reading about Roland- THE GUNSLINGER. I decided it was time I tried to get past my confusion and move forward. "Can I join in?" Of course you can...Let the buddy read begin.Roland Deschain travels across the desert with his mule in search of the man in black. There he comes across- Brown, a farmer, and Zoltan, his crow. Brown offers to put Roland up for the night...Roland's past becomes clearer as the story is told.His past in Gilead...In Tull...His meeting with Jake- a boy that Roland grows attached to- much to his dismay......And his future told by the man in black...Thank you Stepheny and Jeff for opening my eyes to a book I once dismissed. I look forward to the rest of the series. What a great new beginning. :Dhttps://www.goodreads.com/review/show...https://www.goodreads.com/review/show...

The Dark Tower series was one of the great joys of my reading life. However, it also frustrated me to the point where I often wanted to bludgeon Stephen King with a hardback copy of It.I was baffled by The Gunslinger when I first read it way back in my high school days. It had been an unobtainable limited edition that had popped up in the title card of King's other books, and when it finally went into wide release I couldn't wait to snatch it up. But then I couldn't make sense of it. There was a cowboy in an almost apocalyptic landscape where magic existed, but everyone knew the lyrics to Hey Jude. After scratching my head over it for a while, I decided that King must have hit the bottle a little extra hard that day, and then I forgot all about it.I was so unimpressed that I didn't even make an effort to get The Drawing of the Three when it first released. When I finally read it, I got an inkling of what King was doing, and it seemed cool as hell. And since I had delayed reading the second book for so long, I didn't have a long wait for the third one. By the early '90s I had gone from Dark Tower skeptic to hardcore convert. (Little did I know the frustrations that awaited.)The gunslinger is Roland Deschain, a kind of knight with two six guns instead of a sword and shield. Roland is chasing a mysterious 'man in black' across a seemingly endless desert. We don't know exactly where they are, but the place seems to be in a state of decay. There are occasional remnants of very advanced technology, but things have devolved to the point where Roland's revolvers are the most high tech thing around. Magic, demons and mutants are also common place in this world.Over the course of the book, we learn that Roland has been chasing this man for years, and he's never been closer. He eventually comes across Jake, a young boy whose last memory is of being pushed into the street and killed by the man in black in what seems to be our New York of the 1970s. Roland knows that Jake has been left as a trap to force him into a choice that will further damn his soul (Which is seeming kind of ragged around the edges anyhow.), but he is committed to catching the man in black so he can find the Dark Tower.After the other books in the series had come out, I would occasionally go back through The Gunslinger and what came later completely changed my mind about this. It went from being a strange book that I didn't understand or care about to the surreal prologue to a series I was more than a little obsessed with. I started to enjoy the cryptic vagueness and lack of information in the story. It was our introduction to the obsessed Roland, and once we got a bigger look at that world I came to love this book.However, when King started the series, he had no idea what came next or how it would end, and he never felt obligated to stick strictly to the hints and clues that he littered in earlier books like this one or even his other books that contained bits of the Dark Tower. So there were continuity errors and predicted events that never came to pass. After finishing the series, King decided to update and revise The Gunslinger to get it in line with what he wrote later.If he would have just stuck to cleaning up some of the continuity errors and revising the prophecy bits to match, I could have lived with that. Unfortunately, King couldn't resist seeding the entire revised edition with more history and foreshadowing of coming events than in the original version. I liked it more when he stuck to just throwing us in the deep end with this strange world and morally compromised main character. I still prefer my original copy, flaws and all.However, there's another factor in play when it comes to this revised edition, but I can't talk about it without spoiling the ending. My official recommendation for newbies is to read the original version first, then the series and then come back to this revised edition if you feel like it. Call me old school, but I think it plays better that way.Here's a bit more about why King gets a bit of a pass for essentially pulling a George Lucas and having Han not shoot first. Do NOT read this if you don't want to know how the series ends.(view spoiler)[ King gave himself a Get-Out-of-Jail free card with the ending to DT. Since we know that Roland is trapped in loops where he keeps getting to the tower but going back to the beginning of The Gunslinger, King could present an almost infinite number of versions of the story with variations and say that they're all different cycles. When I think of this updated version like that, as slightly altered because it's a different cycle than the first time I read it, I like it a lot more. Thinking about this, King could actually rewrite all the books as many times as he pleases using this idea of it being just another cycle where Roland does things differently. If he wanted to really get the DT fans excited, he could even re-do the series as a 'final' cycle where Roland goes back but has the Horn this time, maybe doesn't let Jake fall and finally walks away from the trap in the Tower at the end.(hide spoiler)]

This is the beginning of Stephen King's famous magnum opus, the Dark Tower. This is where the master of horror writes his great work of fantasy based on a combination of The Lord of the Rings and The Good, the Bad and the Ugly."The man in black fled across the desert, and the gunslinger followed."This simple and beautiful sentence is the opening line, the trademark and even the summary of The Gunslinger. In most ways, this single sentence is what defines this book.For that is how it all begins. The man in black flees across the desert, and the gunslinger follows. In the beginning, the reader has no idea who the man in black is, or even who the gunslinger is. You don't know where this desert is. You don't know why the gunslinger is following the man in black. And you don't know to what end they go. All you know when you start reading this book, is that he does follow him.This is one of those books where you don't get to know anything about anything when you start reading. The characters go by illusive names like 'the man in black' and 'the gunslinger'. The setting is... a desert. Nothing more. This had both a positive and a negative effect on my experience with the book. The negative thing is the fact that in the beginning, I understood absolutely nothing of what was going on, and didn't care at all about what happened to the characters. Why should I, when there was no way to tell who was the good guy, and who was the bad guy (except maybe the title of the book), and no characters had any relations to any other characters or places? The positive thing is that the book gets better and better the more you actually get to know. Eventually, you learn who the characters are, what secrets are hidden in their past, and where this dramatic chase is actually taking place.Thus arises one of the saving graces of this book: its main character. Roland Deschain, Roland of Gilead. Roland is one of those determined and silent protagonists allowing his guns to speak for him instead of his mouth. In most ways, he is reminiscent of Clint Eastwoods character in the famous Dollars trilogy, the Man With No Name (which is actually the author's intention).The writing is... strange. Yes, I think that would be the best way of describing it. King seems to switch constantly between simplicity and complexity when constructing his sentences, making some strange combinatory lines of long and impressive words and then irritating sounds like "Yar". That does not mean that the writing is bad, only perhaps that the style does not suit my tastes completely.Despite all that, I would say that I thoroughly enjoyed the experience of reading this book. The story of the Dark Tower series definitely appears to be quite interesting. It is hard to say anything more about it without including spoilers, but once I got to know a bit of what was happening, I was hooked. Also, since what irritated me the most was that I was thrown into the book without any kind of background knowledge (and didn't start to get it until I was halfway through), I think I might enjoy the the rest of the series more, when I've gotten to know the world in which the story takes place, and the characters featured in it.I will definitely continue reading this series. Whether or not I would recommend either the book or the series is too early to say. This book does absolutely not do as a standalone, and so I must take the next few books into account before I might say anything about that. But since I've repeatedly heard that this book is a lot weaker than its sequels, I'm obviously excited and quite optimistic about reading them.In the end, The Gunslinger unfortunately did not meet my expectations. That might say something about the book, or it might say something about my expectations. Both options are possible. It's certainly not a bad book, but there's no possibility of it becoming a favourite of mine either. I only hope that the Dark Tower series as a whole is as good as the legend says.Dark Tower reviews:#1 The Gunslinger#2 The Drawing of the Three#3 The Waste Lands#4 Wizard and Glass#5 Wolves of the Calla#6 Song of Susannah#7 The Dark Tower

All I could think throughout this book was… what the hell am I reading?!This western fantasy has to be the most confusing book I've read in a long time. Some parts were more interesting than others but overall I was very disappointed. After hearing everyone rave about this series I have a hard time understanding why. I don't believe it would be this popular if it wasn't for Stephen King's name on it. There I said it!I didn't like the story very much nor the writing.I had been warned that the first book wasn't as great as the others but I'm currently not in a rush to continue.

Well, I'm trying this thing where I don't DNF books. Let's face it, I'll probably mess up that resolution though. On a similar note, who here is still hitting the gym? Ha! Thought so. Don't judge me then. Anyway, I know this was a short read but it took me forever to finish it. I think that the idea is fine but it's the writing that is putting me off. I feel the same way about Neil Gaiman, in that I really like the premise and want to read their works but I'm just not feeling their style.Apparently, Idris Elba is supposed to play the lead character (that is, if it doesn't go into production Hell like the other attempts to make this). He's another terrific actor who can play anything. *crosses fingers that he's the next James Bond*

ENGLISH (The Gunslinger) / ITALIANOWhen I read this novel more than twenty years ago, I did not appreciate it. Clearly, Roland's story did not charmed enough my distracted and teenage mind. Therefore, I decided to prematurely stop the "The Black Tower" series. A few days ago in a bookstore I stumbled on a copy of the new edition of "The Gunslinger", and reading the preface I understood a couple of things. FIRST: not just myself, but also Stephen King was young when he wrote the same edition of "The Gunslinger" that I read eons ago. SECOND: to overcome the incomplete literary maturity possessed at that time, Stephen King thought to revise and enrich the original novel, publishing a new edition that for simplicity I will define "more mature". In fact, in that preface King confesses that when he starts writing a novel, he has no idea where he's going with this, let alone when he stars to write a multi-volume saga! In this light, the rearrangement of "The Gunslinger", done only after completing the last episode of "The Black Tower", was necessary.The plot is simple. Roland is a gunslinger and chases the man in black. The deadly desert dominates on them. Some meetings take place along the way, new characters come into play, while flashbacks clarify the gunslinger's past. In my opinion the most beautiful parts of the novel are precisely Roland's memories, which begin to roughly make us understand the meaning of "The Black Tower". King give us the only hint about the time of the facts practically at the end:«Gunslinger, our fathers conquered the-disease-which-rots, which we call cancer, almost conquered aging, went to the moon...», indicating that we are in a vague future, far from our day. The air we breathe is suggestive and desolate. Making an example that only the fans of Garth Ennis will catch, the atmosphere resembles the one created by the British comic artist when describing the events of the Saint of Killers, one of the key characters of his famous graphic novel "Preacher".Although some details escape me at the moment, I expect a lot from this saga. I think this novel is a kind of introduction that I will fully understand after the next volumes, and probably I will return to these reflections once again in the future to update my personal judgment of "The Gunslinger". For now, I trust the positive reviews of the next volumes. Overall I trust the positive reviews of "The Black Tower" series. But above all I trust the author who, more than anyone else, always stimulated my imagination. And that's not a small thing!My journey just started.Vote: 7Quando lessi questo romanzo più di vent'anni fa, non ne fui entusiasta. Evidentemente la vicenda di Roland non aveva colpito abbastanza la mia mente distratta e adolescente. Decisi pertanto di non continuare la serie de "La Torre Nera". Qualche giorno fa mi sono imbattuto in libreria in una copia della nuova edizione de "L'Ultimo Cavaliere", e leggendone la prefazione vengo a conoscenza di un paio di cose. UNO: non solo il sottoscritto, ma anche il buon Stephen era giovane, molto giovane, quando scrisse l'edizione dell'ultimo cavaliere che lessi eoni fa. DUE: per ovviare alla non piena maturità letteraria posseduta all'epoca, il buon Stephen ha pensato bene di rivedere ed arricchire il romanzo originale, mandando alle stampe una nuova edizione che per semplicità definisco "più matura". Difatti nella suddetta prefazione King confessa che quando inizia a scrivere un romanzo, non sa con precisione dove vuole andare a parare. Figuriamoci quando inizia a scrivere una saga di più volumi! In quest'ottica, il rimaneggiamento de "L'ultimo cavaliere", fatto solo dopo aver completato l'ultimo episodio de "La Torre Nera", è stato necessario.La trama è semplice. Roland è un pistolero ed insegue l'uomo in nero. Su di loro domina il deserto, torrido e letale. Lungo il cammino avvengono degli incontri, entrano in gioco nuovi personaggi, mentre flashback di ricordi chiariscono il passato del pistolero. Sono proprio i ricordi di Roland le parti più belle secondo me, sono brani che cominciano grossolanamente a farci capire il senso della Torre Nera. L'unico indizio sull'epoca in cui avvengono i fatti lo si ottiene praticamente alla fine:«Pistolero, i nostri plurisnonni debellarono il morbo che fa marcire, quello che chiamavano cancro. Quasi debellarono la vecchiaia, camminarono sulla luna...»,ad indicare che ci troviamo in un futuro vago, lontano dai giorni nostri. L'aria che si respira è suggestionante e desolata. Per fare un esempio che coglieranno solamente i fan di Garth Ennis, l'atmosfera somiglia molto a quella creata dal fumettista britannico quando descrive le vicende del "Santo degli Assassini", uno dei personaggi chiave della sua graphic novel "Preacher".Nonostante ci sono alcuni dettagli che mi sfuggono, mi aspetto molto da questa saga. Credo che questo romanzo sia una sorta di introduzione che comprenderò appieno dopo i volumi successivi, ed immagino che tornerò in futuro su queste riflessioni per aggiornare il mio personale giudizio de "L'Ultimo Cavaliere". Per ora mi fido delle recensioni positive dei prossimi volumi. Mi fido delle recensioni positive della serie "La Torre Nera" nella sua interezza. Ma soprattutto mi fido dell'autore che più di tutti ha sempre stimolato la mia immaginazione. E scusate se è poco.Il mio viaggio è appena iniziato.Voto: 7

I get the popularity, obviously I do. And as a massive King fan, I dish out this rating sadly, for I would have loved nothing more than to tell you this is my new favourite book. Alas, it was not my taste- and as is such with all my reviews, my rating must be based on my own personal enjoyment and less on a novel's possible literary merit. So I can't tell you if this book is objectively good, I just know that I did not find it to be so.

The man in black fled across the desert, and the gunslinger followed.And our BR gang followed the gunslinger as he tracked the devil, and when he paused to relax and make camp, he told stories of his latest gunfight, his old world, his childhood training and the tests he went through to become a gunslinger... and we just followed him, you know, like these flamingos!King has masterfully created a unique world that integrates fantasy genre with American old west: A mysterious world that poses layers of questions like: Is it a world decedent from our own world? Or is it a post-apocalyptic western wasteland? Or is it a new world altogether? And moreover, Where did the burgers come from? Do they also serve French fries? What is the tax situation over there? Ummm, Sreyas, you are not making any sense. I am not making any sense?Have you read this book?For example, My man Roland the gunslinger walks into a township straight out of 19th century, steps into a bar with no electricity nor any modern amenities and asks for a..... wait for it..... burger. There are machines that can talk, there are sex deprived oracles and ghosts the haunt basements, and there are dialogues that made me question myself: Am I too sober to read this story? Should I eat a large quantity of sugar before reading this? I have to admit that this is a peculiar book. This is very different from the usual King stories and writing styles. The prose are unique (Read: Odd) and the slang is weird at times. I had fun while reading this book, but when I did pause to take a breath, the only thought I had was "What the hell am I reading?!". And the moment I resumed reading the story, those thoughts simply faded away.That, my friend, must be magic!On the top of that, I am not sure what's more intriguing: The world of gunslinger or gunslinger himself!When I finished the book, I found that there was no mention of Crimson King, the primary antagonist of the series! That was when I found out that my edition is old! King revised the book in 2003 and added around 35 pages of new content to the story. So I borrowed my friend's Kindle and read the 2003 version too. I'm not sure which one is weirder! The revised Roland is less cold-blooded, I think. In the end, It all reminded me of the new Mad Max movie for some reason. You know, Apocalyptic wasteland, unreal locations, mad people, weird slang. To be exact, take Clint Eastwood and place him in Mad Max world (Minus the automobiles), then pick some supernatural elements and cook it up in a cauldron full of LSD, You get Gunslinger. Overall, I really enjoyed the book. This installment acts as an introduction to characters and their world(s) but preserves most of the answers for later installments.---------------------------------------AfterthoughtOne of the coolest lines from the book is "Go then, there are other worlds than these."And Y'all remember how critics slammed the new Dark Tower movie adaptation? This was the official critic's consensus published in Rotten Tomatoes website.Well played, RT, well played.--------------------------------------------Bonus: BR ReportShout out to Anish, Avinash, and Izzy for a rather turbulent Buddy Read. My fellow gunslingers were united in confusion, but divided by our ratings. As you can see, I gave the book Four stars.Anish AKA Kraken gave Three stars ------> You can read his review here. Dean from supernatural makes a cameo apperence in his review!Avinash (AKA uh... wait... still working on an AKA for him) gave Two stars -------> You can find his review here. Also, Avinash has abandoned the series after this traumatizing read :pIzzy AKA Ninja AKA little Dragon AKA Piggyback rider pulled a DNF on us after reading three dozen pages and gave a One star rating. There was a cat involved. It's a long story. :pAs you can see, Gunslinger is a gamble. You might like it, you might hate it, but you will be confused for sure!

My father is currently reading 11/22/63 which I gifted to him on Christmas since he is an admirer of JFK and he once told me he wanted to try King. He is completely mesmerized by King's writing (rightly so) and I thought it will be a nice idea to tell him about the King's novel I've been reading in the same time. My tentative to explain the plot of Gunslinger went kinda like this: a guy, a Gunslinger, travels through a desolated desert to catch a Man in Black, who is a sort of a sorcerer. The followed had something to do with the World moving On and the destruction of the follower's home. The Gunslinger reaches a house in the desert where he meets another guy and his talking crow. Over dinner he to that guy how he killed and entire town. Later, in some sort of a deserted building, he meets a child who is sent from the future/another world by the man in Black. Then…spoilers, spoilers, spoilers. Confused much? I was and still am. What I am trying to say is that the Gunslinger is confusing and frustrating. If you like a straight, clear narrative where you understand whatever the hell is going on, this is not for you. The plot is strange, surreal, with some weird characters, some philosophy, blood, demons, witches and a very long tunnel. Kings himself admits that the novel is hard to understand and he tried to re-write some parts to make it more readable. He started to compose this at 19 and it is obvious that he is trying to prove to himself that he can write and he is trying too hard to sound smart. It might have been a strange read and at the end there were more questions than answers but I was hooked from the start by Kings writing and I can't wait to read the sequels. I have until 3rd of August (when the movie comes out) to read the 3500 pages left in the series so wish me luck. ***The trailer is here! The trailer is here! https://www.youtube.com/watch?v=Gjwfq...

This book is something of an oddity. That being, the first time I read it, I would probably have given it 3-stars, and felt quite generous doing so. It was really "meh" and though I was a King fan, I wasn't pleased with it after the hype. I even delayed reading Book 2 for awhile because I was somewhat turned off. I didn't hate it, but it left me ambivalent for the most part.But this is definitely a book that gets better with time, with re-readings, and with the rest of the series. The second time I read it, I probably would have rated it 4-stars, and this was after reading Books 2 and 3 and preparing for the release of Book 4. By this time, I was in love with the series.I read it again just before Books 5-7 came out in fairly quick succession. And yes, by then it had earned the 5-star rating you see here. For this fourth read of The Gunslinger, I'm enchanted with it even more than before. On it's own, the book doesn't do much for me. But when you combine it with the entire series, wow! It's the essential beginning to the essential fantasy series of my generation. The Dark Tower is truly better than the sum of its parts. And as the first part, this thing is the motor that keeps the car running."The man in black fled across the desert and the gunslinger followed."

"The rain in Spain falls on the plain. There is joy and also pain but the rain in Spain falls on the plain. Time's a sheet, life's a stain, All the things we know will change and all those things remain the same, but be ye mad or only sane, the rain in Spain falls on the plain.We walk in love but fly in chains And the planes in Spain fall in the rain."I can not imagine Audrey Hepburn singing this version.The Gunslinger is Stephen King at his most whimsical and lyrical, not two words you would associate with him but his "constant readers" know he is more versatile than he is given credit for. The first chapter of this book is stylistically atypical of King; he seems to be channeling Neil Gaiman, and the "High Speech" vernacular he invented for this series has a touch of Tolkien to it. The book's first line "The man in black fled across the desert, and the gunslinger followed." is King's "It was the best of time", an iconic quote for the author. There is nothing extraordinary about the sentence on its own, but the enormous epic tale that follows this one sentence is what makes it so memorable. The Gunslinger is the first book of King's magnum opus, a western flavored dark fantasy epic series that spans eight (mostly long) books, and over a decade in the making, The Dark Tower series. The Gunslinger s an unusually slim volume for King, clocking in at a mere 224 pages (the remainder of the series are all long books).The Gunslinger introduces Roland Deschain, the last of the gunslingers, a knightly order in a world that has "moved on", the population is sparse, food and water are scarce, technology is a lost art, much of the land is inhabitable; even reality seems to be losing cohesiveness as time flows unreliably and sun rises an sunsets can not be depended upon. Roland is on a mission to catch a sorcerer called the Man in Black (among other names), to gain knowledge about the Dark Tower, the nexus of the multiverse. The reason why he needs to be there is as yet unclear but it is of overriding importance and he will not let anything stand in his way, not even his own conscience.The Gunslinger vs the townsfolk of Tull!On his epic journey across Mid-World, after barely surviving being lynched by the entire townsfolk of Tull, Roland comes across Jake Chambers a young boy apparently from our world, Roland soon comes to love him, only to eventually betray him for the sake of his mission (not to worry, this is clearly telegraphed early on). What Roland learns about the Dark Tower will keep him and us constant readers busy for years.When I first read The Gunslinger in the 80s I was rather disappointed, the style was not what I expected from King who is always immediately accessible and generally without literary pretensions. The tone of this book did not seem King-like at all. This was the first King book I have read that is not set in contemporary America, the setting and language just did not click for me at the time. However, I was interested enough to read the follow up volume next volumeThe Drawing of the Three and that blew me away, but the review of that is for another day. This reread is of the revised 2003 edition where King added some additional scenes and made minor alterations for the sake of consistency and general improvement. I have to say, I love this edition, this partly owed to King's revision, but also to my being a more mature than that first time. I am much more appreciative of the nuances the stylistic flair he puts into the text here. This time around I also enjoy the High Speech, the formal speech of the Gunslinger order, and the Low Speech (English with the odd twists) spoken by the general populace, tremendously. King has done his best world building with this series.My intention is to reread the first four books of the series, with the addition of the recently insertedThe Wind Through the Keyhole numbered as "volume 4.5". Certainly I am very much looking forward to readingThe Drawing of the Three, I have very fond memories of that book. As for this volume, The Gunslinger, it is much better than I remembered and stands alone quite well by itself. If you are a King fan you don't need to be convinced to read the Dark Tower series. If you are a fan of epic fantasy this series is one of the most unique and a must-read.Long days and pleasant nights, stranger.Notes:• According to King (in the forward of the book) the additional material is only 35 pages.• If you have read all the Dark Tower books and are looking for more "Weird West" (fantasy with Western aesthetics) check out David Gemmel's excellent Jon Shannow series. For more about this little subgenre with a list of recommended books have a look at this Wikipedia page.• Roger Zelazny's classicThe Chronicles of Amber series has a similar idea of a nexus world among the multiverse. There is a Western feel to some of it also.Quotes:"Go then, there are other worlds than these." (another iconic quote)"He had laid his fuel in a pattern that was not artful but only workable. It spoke of blacks and whites. It spoke of a man who might straighten bad pictures in strange hotel rooms.""Every now and then a perverse downdraft would make the smoke whirl and puff toward him and he breathed some of it in. It built dreams in the same way that a small irritant may build a pearl in an oyster. The gunslinger occasionally moaned with the wind. The stars were as indifferent to this as they were to wars, crucifixions, resurrections.""Then he puked, and it was black and full of blood. It went right through that grin like sewer water through a grate. The stink was enough to make you want to run mad. He raised up his arms and just threw over. That was all. He died in his own vomit with that grin on his face.""He put a shot into each of the crosspieces, blowing the roods to splinters, and four more into the woman's head. She seemed to accordion into herself and waver like a shimmer of heat."Idris Elba as The Gunslinger• The Worst Changes The Dark Tower Movie Made From the Books.Oh, dear, as a fan of the series it looks I am not going to like the 2017 movie adaptation, but at least somebody made this memo after watching it:Credit: "chungame" from Reddit.

The first book of Stephen King's epic fantasy series will not disappoint but may frustrate - stick with me here.The Gunslinger is a rare book for fantasy lovers, it reads like a Clint Eastwood western - perhaps The Good, The Bad and The Ugly, Pale Rider or even Unforgiven. Our protagonist is indeed the Gunslinger, starting out on a mission that has plagued him from his childhood and his Father before him. A quest the he 'earns' the right to pursue, indeed he may well be the last Gunslinger alive.As the story evolves we learn of his enemy, the man in black, the one who he must hunt down and kill. A fairly straight forward quest, much like the aforementioned Eastwood movies. But as all fans of King know, there is nothing straight forward in the works of the master. His journey takes him across unforgiving lands where he meets another central character to the novel. For those of you that have read King's duet with Peter Straub, "The Talisman", in some ways this new character reflects the story line. The Talisman works with alternate universes and it is not exactly the same here yet we are introduced to a world that we all know but is obviously foreign to The Gunslinger - that is the world that we live in. There are several mentions of The Beatles song 'Hey Jude', subways and even the Statue of Liberty (Cue the planet of the apes). A perfect way to tie our world into the world of the Gunslinger without hammering home the point, some biblical references help too.There are many theories surrounding King's writing and his worlds. He himself has spoken in many books and interviews about them too but perhaps one of the most often asked questions involves the person who is Randall Flagg, he who appears in The Stand and The Talisman along with other books. Some go as far as to say he is the spiritual presence behind Pennywise in IT and the basis for the evil in Needful Things. To me, Flagg has never really been explained completely and I hope he isn't for a long time, if ever. The mystery and intrigue really draws the reader into King's universe and I, like most others, can only really believe what King says himself? Or can we? All theories aside the Gunslinger is the introduction to one of the greatest series ever written and a series which explains so many things in Stephen King's stand-alone books.At the start I said The Gunslinger may bring frustration. You start the read and so many questions arise almost immediately. Towards the end of the book most of these questions are answered for you while many, many more questions enter your mind. A brilliant work that will not allow the reader to stop at the first volume. I gave it four stars although I loved it. I just sense that one of the following volumes is going to blow me away and I need scope to judge it better.My last word on the Gunslinger, nineteen.........

Reviewed by: Rabid ReadsSo here's the deal . . . THE DARK TOWER obliterated my long-running book funk. I read all ten of the original series graphic novels, then I read the five from the spinoff.FIFTEEN graphic novels. In three days. Then I had to read the real thing. #cantstopwontstopYou: Why?B/c after reading all FIFTEEN of the graphic novels, Roland still hadn't made it to the tower. *bangs head against wall*And after reading THE DARK TOWER (the novel), I discovered that with the addition of a few flashbacks, probably from later installments, all TEN of the original series of graphic novels were based on this first installment of the books.They were pretty much the same story. Verbatim. Maybe that's common in this scenario. I don't know. I don't think I've read a graphic novelization of an existing book before. But here's the thing: whether it was the additional background or the gut-wrenching illustrations that accompanied Roland's trials and tribulations (of which there are many), he's a much more likable character in the graphic novels.In THE DARK TOWER (the novel) . . . Roland is kind of an ass. Not kind of. Really, really an ass.Which is a symptom of the bigger problem: there is a severe lack of character development.There was insta-love. You: In a Stephen King novel?Me: Not in the traditional sense, but YES. There was.You: O.oMe: I know, right?And that was after he went back and edited it for rerelease. B/c apparently if you're Stephen-effing-King, you can do that. #itsgoodtobeking BUT.I'm still hooked. I'd bought and downloaded #2 somewhere around 75% into #1, b/c I gots to know, I gots to. *shakes fist at curiosity gods* Do I recommend it to anyone else? Not yet. We'll see. I hear it gets better, but for now I'm shelving it as what-the-hype.

Dear Stephen King,I'd like to apologize for the times that I've made fun of you in any way, shape or form, including the kid in my English 2 class sophomore year who would not stop raving about you as if you were the only person to ever write a book. It's not that I think that kid was justified for only ever reading your books and no-one else's, and it's not that I thought you were a horrible writer and now I think you're amazing.But, this was really quite a pleasant surprise. I'm not sure what I expected. This was recommended by someone whose taste I trust, so I didn't expect it to be bad, but I don't know that I had anticipated that I would enjoy it quite so much as I did.Basically, Roland ("the Gunslinger") is chasing "The Man in Black" (which couldn't help but remind me of Johnny Cash, especially considering this whole Western theme) across a desert. In the process of this, he meets a lot of people (major characters include a woman with a scar on her face, a young boy and a guy with a house in the desert), shoots up an entire town, runs away from/kills mutants, talks about his history, and a few different worlds and languages that I still don't really entirely understand. It's all a little confusing and some things were cleared up and some things weren't. I forgive you the confusion, though, because I'm sure that's part of what's supposed to keep us pushing on to the next book in the series.Roland is an interesting enough character, though a somewhat typical hero type - complete loner, no more connections with anyone he loves (friends, family, romance), continuing on a quest because he's sworn out of some kind of duty and he's unrelenting, even at the sake of others' lives and his own, best on his own, etc. You've sent him through some compelling moral dilemmas and it's just the first book (HOLYSHIT THERE'S SEVEN), so I'm interested to see what you do with the rest of them. And your descriptions are one of the best things about the book - I can picture everything pretty clearly.Honestly, my biggest complaint is a small one: you use the word "sardonic" way too much! I swear, you use it more than I heard it in my 23 previous years - doubled, and I read some smart shit. You could've just said "everything is sardonic," and it would've achieved the same point. I should've kept a running tally. There were also a couple others words that seemed out of place, like you were trying to say, "I know my way around a dictionary, and here's proof! See, I'm fucking smart!" Which I don't have a problem with if it feels natural, and I can't say that about some of your word choices.All in all, it's an adventure book, so I can't say I derived any huge themes from it, but also, hey, it's only the first book, and you've got the leisure of stretching your point over many of them, should you ultimately have one (which I would hope you do). It's off to a decent start, though, and I think there really is some good promise contained here, so I'll definitely be checking out the next book in the series.I liked it enough to not be embarrassed by the fact that I was reading one of your books, so that's a clear victory for you. Congrats!Best,Taylor Long

A Gunslinger, a Man in Black, a Child Out of Time & Space, the Beginning of a Cryptic Saga...A Second Read. the first time: unimpressed, bored, agitated, gave up. the second time: so much better, a lot to consider, an enjoyable experience...A Strangely Sparse Narrative, perhaps too much mystery, perhaps too much of a tease and not enough action, perhaps too much to think about, a frustrating lack of detail...A Tarot Card: THE HANGED MAN...Sacrifice... Renunciation... Contemplation... Waiting...A Brilliant Passage detailing the life and death of a boy from 1970s NYC...A Pretty Good Passage detailing the strange beginnings of a gunslinger from Gilead, a knight from Inner-Earth...An Enjoyably Creepy Passage detailing the death of a town...A Tarot Card: DEATH...The Ending of a Cycle... Transitioning Into a New State... Regeneration... Goodbyes...A Poorly Characterized Villain, too many arch comments and rote phrases, villainy by numbers...A Kind of First Novel, recently upgraded, impressive in conception, less impressive in execution, and yet...A Good Start: despite the flaws, despite the thinness: a beautifully written and intriguingly mythic start to a series, one that i will continue reading, i need to see the end of it all...A Tarot Card: THE TOWER...Chaos, Sudden Change... Crisis, Revelation... Disillusion, Crash... Ruin, Explosive Transformation...

Typical King, Strange, Really Strange.Roland, the last gunslinger, is pursuing "the man in black" across the desert. Why? I'm not really sure. Something to do with a Tower and the fact that "the man in black" is evil. The writing style is typical Stephen King - strange. In this book, he has the habit of starting a chapter with a sentence like: "The boy found the oracle and it almost destroyed him." Then he'll go off on page after page of flashbacks or other none related storylines until at some point he'll come back around to the boy and the oracle. I guess it's meant to build suspense. I felt it slowed down the pacing of the plot. I have to admit I really struggled to make it through this one.As with most of King's books they can be gruesome in places. They are not for everyone. Set in a dystopian world the language and writing style takes a bit to get used to but doesn't distract from the plot. As with all his books, King creates a very real world that you can practically smell and taste by the time he's done. It's almost scary how real it becomes after a while. I guess that's why he's so good. I'm going to keep reading the series simply because I want to see what all the excitement is about. Plus when "The Dark Tower" movie comes out next year I'd like have read the books before seeing the movie.

At a loss for words when it comes to this book. There is something that feels so new and fresh in terms of genre. Western. Fantasy. Coming-of-age. And possibly sci-fi. All things I love. And having now read this, and knowing it was first published in 1982, I'm pretty sure one of my other favorite writers, the great Cormac McCarthy, drew inspiration from The Gunslinger in both Blood Meridian and The Road. One of the most original stories I've ever read. Cannot wait to continue this series!

For me, this was a super fun read with terrible pacing. I found the first third of the book to be a bit of a drag and I just wanted to know more about the world (which we only really get a good glimpse of at the end). The middle third was my favorite bit, as that's when Jake was introduced and I found him to be the most interesting aspect of the story. The final third had some answers, but I still found the pacing to be a bit too slow for me. I'm definitely interested to continue the series though as I've heard that they only get better from here!

Enjoyed it! Glad I purchased the revised and expanded edition with the new introduction and forward by KING. (which I wasn't aware of at the time) He really set up the book enticingly. Only 6 more to go. Can't wait to see what happens next! Update: May 15, 2017 - Wow! Dark Tower fans.....Check out the new movie trailer - Excellent - Coming August 4th.

Roland Deschain of Gilead, the Last Gunslinger, is on a mysterious quest for the mysterious Dark Tower. Aside from that, he was also in a quest to follow the man in black, for answers. With his trusty companion, the child named Jake, he sets on an unforgettable adventure.The synopsis was really short and vague, but once I finished the book, everything seemed to clear up. This novel was about a man's quest for something meaningful to him, and he was so desperate, desperate enough to do unimaginable things. The main plot of the novel was interesting enough, but King decided to kick things up a notch. This novel just makes you thirst for more. Nothing seems adequate enough, and 6 more books plus 1 novella in the series seems like a good way to quench the thirst. It clearly explained what the quest was about, but not the purpose. I'm not complaining though, because this first novel was more of an introduction to the plot and characters. Most epics are character driven, and The Gunslinger was not an exception. I love character driven novels, as long as the characters are likeable and unforgettable. The Gunslinger himself proved his worth. This novel was a mixture of Fantasy, Western, and maybe Sci-Fi. I can't believe I haven't read much Western. Some of my favorite movies are of the Western genre, I must read more.The Gunslinger, or Roland Deschain was a man with an obsession problem. He was obsessed with The Dark Tower, and clearly he would continue to be in that state throughout the series. It was a bit sad reading about a man with an addiction problem, but that just sparked my interest even further. What more can the series offer if the first book managed to surpass my expectations? I loved the characters (especially Gunslinger and Jake) and I'm sure that I'll be introduced to more amazing characters throughout the series. Such a terrific first book in a promising series, all I can say is, I can't wait to read more.I am 100% sure that this will be one of my rereads in the future. Not only was it such an easy read, but it was so enjoyable too. I don't think I ever read so comfortably in the past. This novel felt light, even though it was filled with so many things in 300 pages. A lot of speculations running inside my head right now, and I think I'm slightly going obsessed and mentally insane. I'm hopefully going to devour the series, but we'll see, hopefully I don't jinx things. Stephen King is an absolute genius, and a gift to all readers. Many may not like him that much, but he's my favorite of all time. This early on with the series and I already considered the first as my favorite, what more can happen?!(view spoiler)[ I will never forgive you Roland, and you Stephen King, for killing the amazing kid. Jake was a character I felt a connection with, and the fact that you killed him, Stephen, you also killed a part of me.(hide spoiler)](view spoiler)[ I told you guys I think I might be going crazy. I don't care if he revives Jake from the fucking Pet Sematary, HE NEEDS TO DO IT!!!or maybe the man in black can, since he was mentioned as anevil being who can bring the dead back to life. , but yeah, I forgot that he died too. (hide spoiler)]5/5 stars, and it deserves no less (it deserves more). Such an amazing introduction to an unforgettable world and characters. All I can say is, King did it again. Go read this amazing novel.

Gloriously moody and atmospheric!The Gunslinger is high plains, lonely traveler, John Wayne-in-a-post apocalyptic dystopia goodness. With a survivalist main character and a dependent boy at his side, fighting mutants and what were human beings against all that wealth of stark nothingness for scenery, it felt very akin to Cormac McCarthy's The Road, which I'd read somewhat recently and loved. Mysticism and Biblical references abound and at points threaten to muddy the narrative waters, but never fully mire it into unhealthy miasma depths. I loved the main story and regretted any departures, but King generated enough interest in his main character to hold this reader's attention through some lengthy flashbacked backstory. King's writing still suffers here from his over usage of modifier short cuts. He occasionally will "-ly" himself out of a description of emotion or action, which would've taken a few minutes at most to rectify...although, who has time for such things when you're writing thousands upon thousands of pages at such an infamously breakneck speed that SNL fits it into a skit (http://www.hulu.com/watch/280366), and well, who am I to judge when your books are flying off store shelves at unheard of rates?I almost enjoyed the complete heck out of this to the point of a 5-stardom rating, but the showdown left me a little flat, as sometimes happens with books that are to-be-continued... ...oh but it shall be continued, oh yes, the reading will recommence!

i made a kinda-sorta readalike list for the dark tower series here:https://www.rifflebooks.com/list/236304childe harold, get your gun!

Buddy read with the notorious duo,Quick Draw Stepheny andPistol Packin' Delee .The Gunslinger clambered over the rocks. He knew the Man in Black was close. He could pick up his scent. The Man in Black smelled like charred meat. Evil charred meat. The river to his left was the apotheosis of all rivers; it was watery and wet. The Gunslinger pictured himself lying in the river, being carried backwards in an unending current; lulled by the sweet relentless drifting towards death itself. In a fuzzy formless way, the gunslinger approved.The Gunslinger spotted a crop of big rocks on the horizon. They stood out like thumbs. The Gunslinger, struck by a momentary dizziness faltered, for he knew the encounter with the Man in Black was nigh. Staggering towards the rocks, the Man in Black suddenly loomed above him. "Wascally man in bwack, I'm going to shoot you", said the Gunslinger.The Gunslinger fired his guns but the bullets didn't come close to the Man in Black, who while chomping on a carrot, grinned and said, "Eh, Doc, I hope you know this means war."That clicking sound you just heard is Stephen King removing me from his friends list.A review (of sorts).This is a good example of a few excellent vignettes that don't translate into a satisfying whole. I get that the chapters contained in this book were published separately andI should withhold ultimate judgment until I read the entire saga (seriously?); however, I haven't read them all and must make do with what I have read.The disparate elements (western, scifi, fantasy) didn't really coalesce. Throwing in the Arthurian stuff (mention quest a few times, throw in the word grail once or twice) just made it more of a muddle. The ending here wasn't so much perplexing (view spoiler)[the Dark Tower is a Nexus for all realities (hide spoiler)] but head shaking (view spoiler)[King is really going to lift T.H. White's concept of Merlyn and throw him in here? (hide spoiler)].Gunslinger, if you come across Edith Keeler in your journey, don't let Bones save her from getting run over by a fast moving truck.I've been urged to keep reading, so a hopeful three stars.

King is a gifted writer and has constructed a sort of intertwined "multiverse" (thank you Albert Einstein and Michael Moorcock)for his novels. It is compelling, detailed, gritty, and flawed. I have observed before that I can't really call myself a King fan. He seems unable to conceive of what I might call "actual good" or "altruistic good". His protagonists are usually terribly (even fatally) flawed in some critical way. In this I don't mean the in the "I'm human with feet of clay" type of flaw, but the "I'm also perfectly capable of stomping a puppy if I have a weak moment" kind of flaw.Still this book, its sequels and the other tie-ins that help create the said "multiverse" are compelling. I read the series, but I don't believe that I can be said to have "enjoyed" the experience. They will lead you down a dark and dangerous road where you will be enthralled, fascinated, and absorbed. You'll get a view of certain places in the human heart where maybe we haven't looked a lot. Be ready for a dark, bloody, mucus smeared world where evil henchmen eat bloody secretions and you find that, "The heart of man is deceitful above all things, and desperately wicked: Who can know it?" (-Jeremiah 17:9)King says he worked at this (the series) for years and had multiple influences. (From The Lord of the Rings, and the Arthurian Legend to Clint Eastwood's man with no name. He mentions giving a nod to Robert Browning's poem, Childe Roland to the Dark Tower Came.) It is a fairly unique read and worth it, if it's what you are looking for. It will definitely not be some people's cup of tea while others will love it. I suppose the correct term here would be, I like or I appreciate this book. When I say the book or the story is "crude" I'm not referring to the writing. The prose is at times almost inspired, Mr. King is an excellent writer. No I mean the characters live in a crude world. It's a world of slime covered evil, creeping infectious debauchery. But, I actually like much of the book and story. It's another one of those stories I sort of got "trapped" in. The character Roland (ironically the name of arguably the first Paladin) (and I didn't miss that King probably chose that name deliberately. He mentioned, as noted before when writing about the book that another of his inspirations was the poem "Childe Roland to the Dark Came". Roland is also the name of Charlemagne's best known Paladin.) is a well constructed one and I must admit to loving the line: "The man in black fled across the desert and the gunslinger followed." I read somewhere that it was "the hook to end all hooks". I agree or at least would agree that it's "a hook to end all hooks". As I said, some of the prose is inspired.So, while a lot of the needless "crudity" puts me off and tends to greatly lessen my liking for the book(s), I go with 3 stars and recommend you "might" try reading them for yourself and see what you think. It will strike different readers in different ways.A solid, "pretty good" or "excellent in places" from me.Originally reviewed in 2009. Updated 2013.